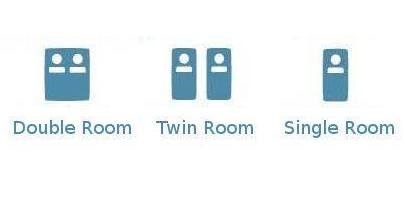 All rooms have their own private bath or shower room, usually en-suite.
You can indicate your prefered bed type on the booking form, however your first choice of bed type is not always available. The numbers of single and twin-bed rooms are few in our quaint accommodations. We try to keep twin rooms for friends traveling together, rather than couples, for example.
Solo traveller: You will have your own room with a single, double or twin beds.
Friends, Sisters, Mums: Your room will be a mix of twin beds or a double (queen +) bed.
Couples: Your room will usually be provided with a double bed.