Tour Description ~ 2018 Tours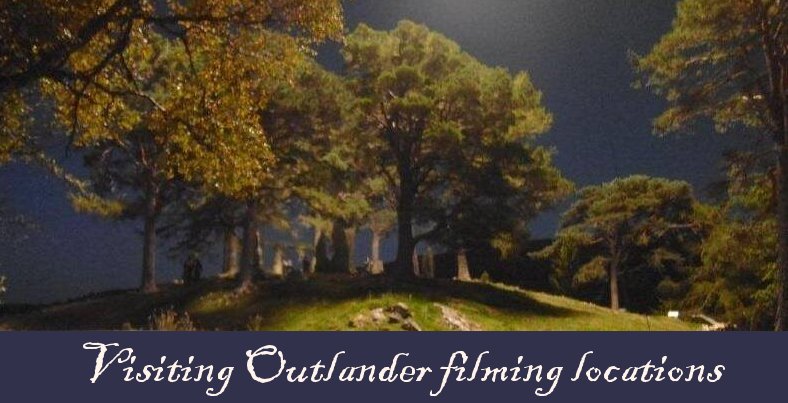 To request a tour date, please enquire for availability at the bottom of the page.
The Starz Outlander TV Tour (OTT) is becoming highly requested and will start again in 2018. These one & two day by-request-tours will visit some of the major sites that are more recognizable in the scenes. You'll have a good hour or more at each one to look around and see if you can spot the wee nooks and crannies filmed in the series.

These are TV film sites only. If you wish to have a more rounded experience of the original story (the books), then join us on the Jamie and Claire Tour. Several of the film locations are already included within the eight day tour which includes hand picked sites that most resemble the book description as described by Claire (aka Diana Gabaldon) including an exclusive to our use on the 8 day tour, Lallybroch Manor.
2018 Tour Dates
By request all year (providing we are not on tour elsewhere). Some sites are only open to the public Easter to October.
If we get others requesting the same date, we may include them in the tour providing there is room on tour.
The Itinerary
We'll fit in as many of the filming locations as we can into the two days of the OTT (Outlander TV Tour). Currently there are about seven we visit, chosen from the list below, depending on which sites are available. If Starz Outlander reveal more and they're in the same area, we'll have further choices.
Locations
High Seasaon - Between April 15th & September 30th
Two day tour
Black Jack Randall's Fort William ~ a forboding place with small windows making it difficult for even the most crafty of Highlanders to get in and out of. This filming location (in our humble opinion) is a pretty good facsimilie for the now lost Fort William.
Lallybroch (when available) ~ though nothing like the Lallybroch in the book (ahem, cough, as herself, that's Mrs. Gabaldon to you and me... might say) it's still fun to see as it is the home of Jamie Fraser (and Jenny's family) in the series.
Castle Leoch ~ the set used by Starz for many of the early episodes.
Sandringham's House ~ also used for various Paris street scenes and the duel with the MacDonalds.
Gardens of Versailles ~ where Jamie finds out that Jack Randal still isn't dead and suggests a duel to finish him off.
Inverness 1943 ~ where Frank and Claire honeymoon and Jamie's 'fetch' appears outside the window.
Inverness Station 1943 ~ where Frank and Claire are romantic amidst the steam of the train.
Military Camp of the Frasers ~ where Jamie had the Lallybroch men trained and Dougal MacKenzie was a difficult ally.
Cranesmuir Church ~ where the indoor parts of the witch trial scenes were filmed
Cranesmuir Village ~ where the pillory scene and parts of the witch trial were filmed.
For old Edinburgh sites see FAQ page.
Locations
Winter Season - Between October 1st & Mid-April
One Day Tour
The following sites will be available during the winter:
Black Jack Randall's Fort William
Castle Leoch
Inverness 1943
Military Camp of the Frasers
Cranesmuir Village

Note: Lallybroch and Cranesmuir Church will have occasional accessiblity during winter months.
Excluded from the one day tour are Versailles, Sandringham's House and Inverness Train Station, as they are closed during winter. Other TV sites may depend on your tour dates.

Tour Price - Two Day Tour - High Season

The price includes the overnight accommodation on the end of day one.
£570 for a solo traveller
£400 per person for two (shared room)
£350 per person based on three travellers (shared room)
(Currency exchange rates: www.XE.com)

Tour Price - One Day Tour - Winter Season

The price does not include accommodation
£300 per person for two
£250 per person based on three travellers
(Currency exchange rates: www.XE.com)

For five guests or more, please contact us through the Custom Tour Enquiry where a bespoke tour can be discussed.

What is included in the tour price?

All transportation from Edinburgh area - pick up to drop off.
Touring with a knowledgable local Guide & Outlander fan.
Two day tour - One night accommodation and one breakfast during the tour.
Entrances to the paid sites.

What's not included in the tour price?

Lunch and dinner are not included in the price (but local eateries will be available).
One day tour - accommodation.

Who are these tour for?




Obviously, travellers who are Outlander TV fans.

It is for both lads and lasses, solo and accompanied travellers.

Travellers who want to be in the real places where scenes were filmed and are brave enough to experience the whole picture that these locations offer.
For travellers who want someone else to do all the hard work of putting a tour together.
It is for those who will appreciate a non-smoking tour throughout.

This is for me!

Still got questions? They are answered on the FAQ page.


Our Outlander TV Tours are not affiliated with Starz or Sony Corp., but then again neither are anybody elses!